Welcome to

Elephant Parade London is London's biggest outdoor art exhibition ran from May to July 2010. With an estimated audience of 25 million, the campaign raised well over the £2 million target for the endangered Asian elephant, also benefiting 17 UK conservation charities and more than ten projects in Asia.
Many thanks to all who bid for the elephants for their immensely generous support and for making the auction such an amazing success.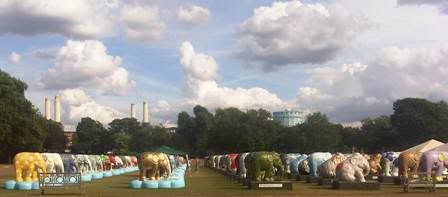 A LIST OF ALL THE SALES PRICES FOR THE ELEPHANTS CAN NOW BE SEEN HERE
---
Mission
Elephant Family has been campaigning for the conservation of the endangered Asian elephant since 2002, and is the only UK charity dedicated solely and exclusively to saving the Asian elephant from extinction in the wild. The mission of Elephant Parade is to become the world's largest financial support organisation for Asian elephants. This new project aims to raise public awareness, gather signatures for a government petition, and raise vital funds for conservation projects in Asia.



For more information on the Elephant Parade, including artist, sponsors and trustees please visit: www.elephantparadelondon.org
For more information on Elephant Family please visit: www.elephantfamily.org